Furnished Apartment - Studio - 20m² - Marais - Bastille - 75004 Paris - S04050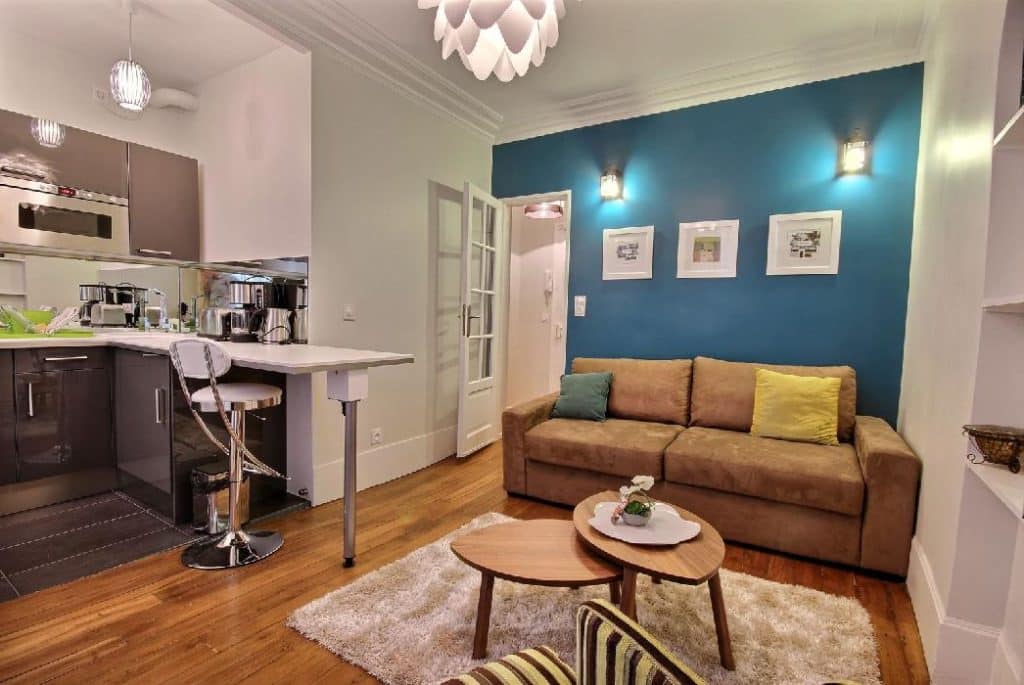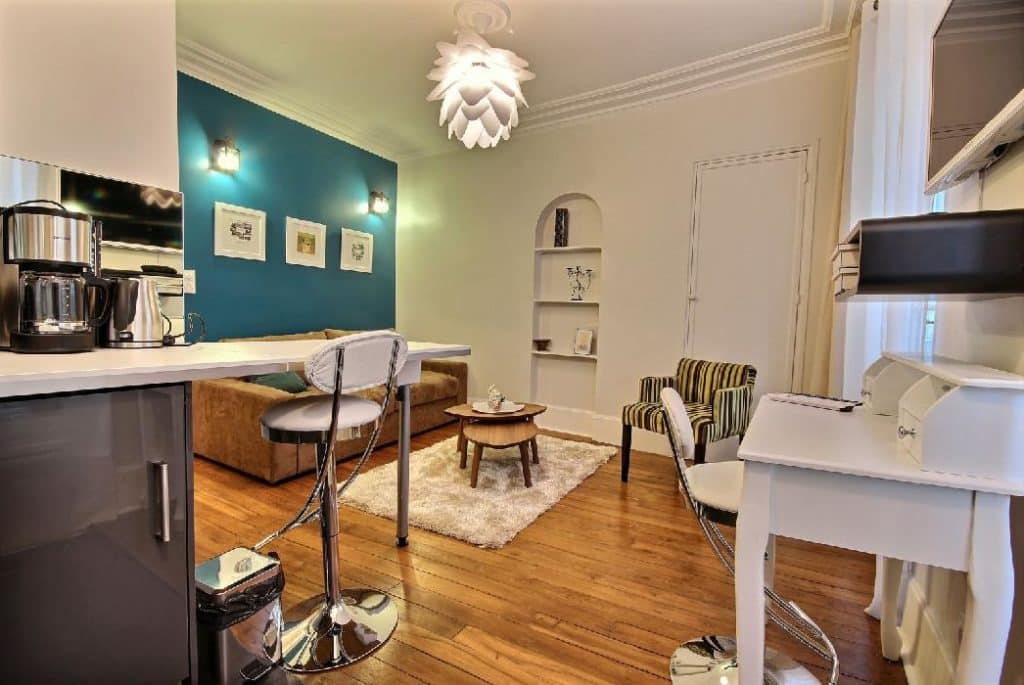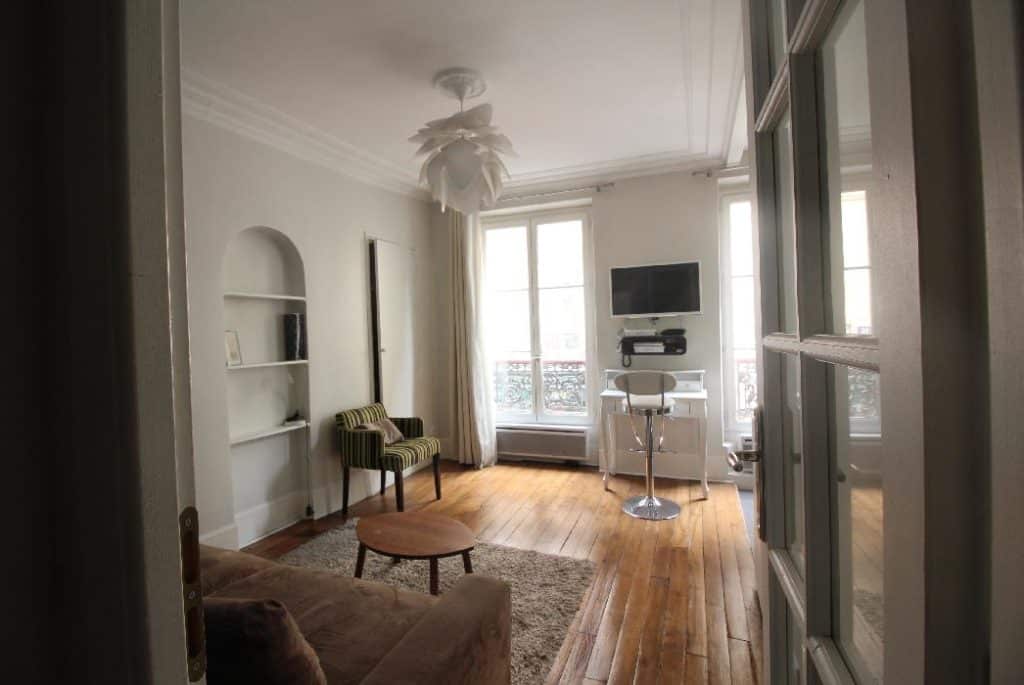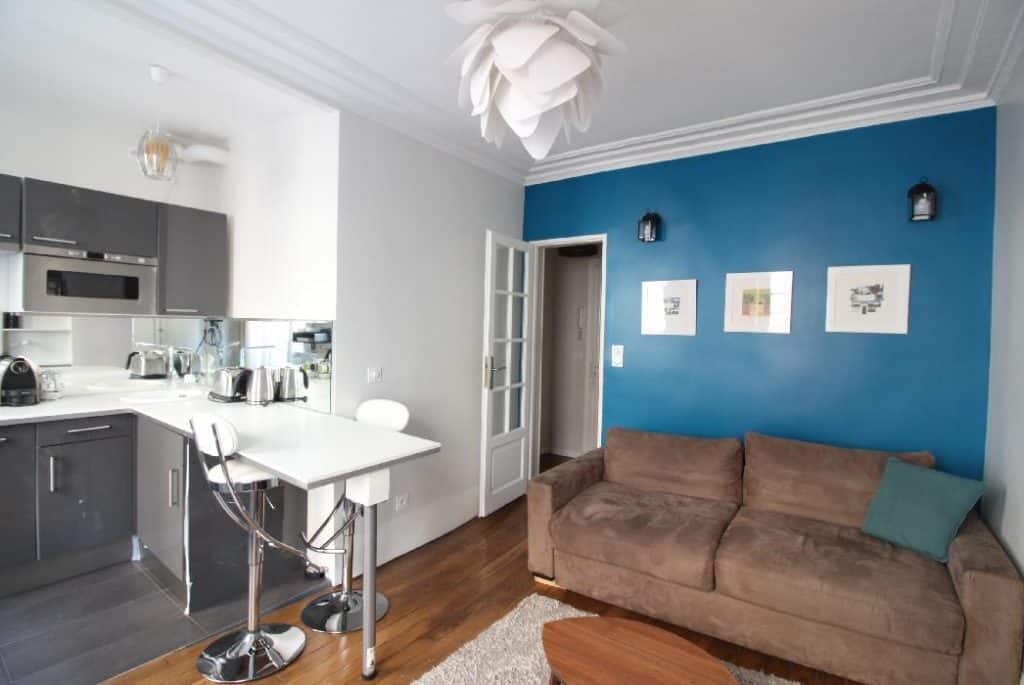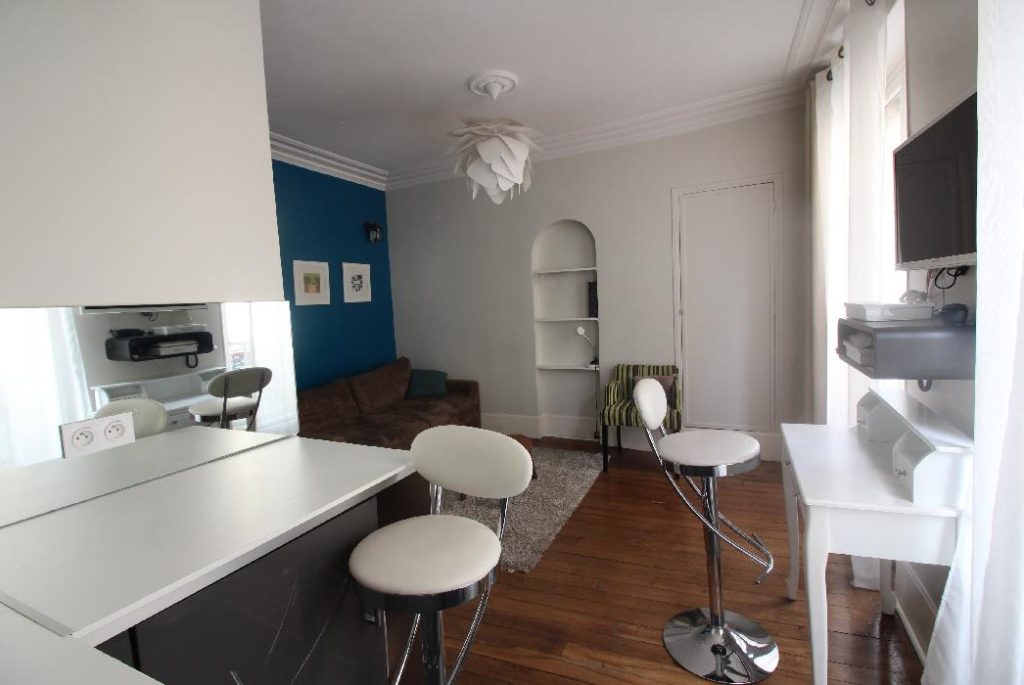 The apartment as Seen by Gaëlle Rigou
of Parisian Home

.


Location:

The historic Marais in the heart of Paris is one of the most popular choices for Paris vacations. Its narrow cobbled streets are rich with a contrasting trendy and traditional population, while the wonderful patina of the 16th and 17th-century buildings are enhanced by the design and the colour of many boutiques. This comfortable studio is in the heart of it all!

Apartment Layout:

This studio is located on the 1st floor of a typical Parisian building. The entrance of the studio features a large cupboard. On your left, you will enter the main room. This room is decorated with vibrant blues and has a chic open kitchen with a bar. There is a comfortable 140 cm convertible sofa and the space is decorated with attention to detail from the fun lighting to the coffee tables. There is also a small desk for those coming to Paris that need to set up a lap top.

Tips:

The bathroom has a shower, WC and vanity.
Equipments
Washing machine with dryer
To be noted
Arrival 15H00 and departure 10H00
Contact your consultant to schedule a different time, if needed.
Delivery of the keys by hand
Between 10am and 8pm on weekdays, or via our key box at any other time.
Reception agent
You will receive the contact information and check-in details the week of your arrival, in order to organize yourself as well as possible.
Cancellation
Vous pouvez annuler gratuitement 30ays avant votre arrivée.
Consult our general conditions
Bilans énergétiques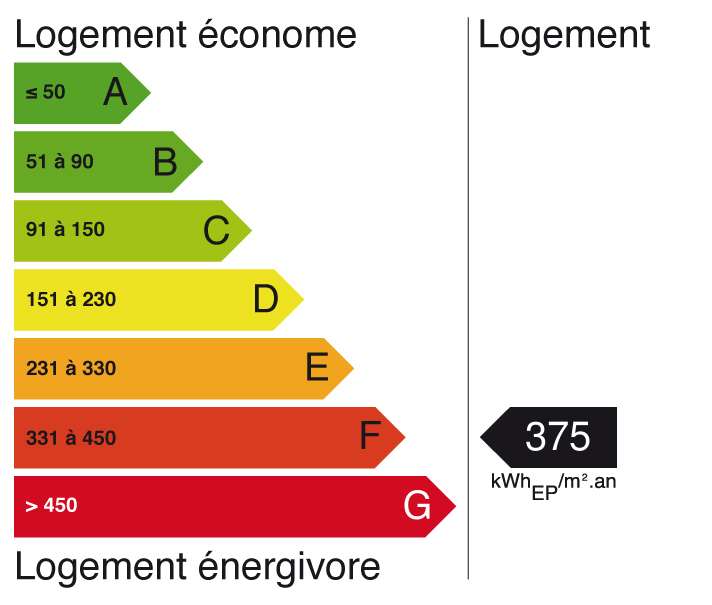 ---
The neighborhood
Saint-Paul, Place des Vosges
Artistes, créateurs, nouvelles tendances… Un Paris animé s'ouvre à vous. Dans le village Saint Paul qui entoure la rue du même nom, une balade romantique s'improvise dans ses cours intérieures. Et pourquoi pas ne pas chiner un peu chez les nombreux designers, antiquaires et galeries ?
Avant de vous rendre dans le très vivant Marais, entrez dans le sublime Hôtel de Beauvais (68 rue François Miron) où Mazarin, Anne d'Autriche ou Mozart aimaient se rendre. Passez devant l'hôtel Sens qui rappelle les châteaux forts en raison de son architecture civile médiévale aujourd'hui devenue très rare (1 rue du figuier).
Petits resto, bars, cafés théâtres et boutiques tendances se mêlent au charme de l'ancien dans ce quartier. La rue Vieille du Temple alignent les belles demeures et hôtels particuliers. La rue des Francs Bourgeois et celle du Roi de Sicile témoignent du caractère populaire du quartier d'autrefois avec leurs anciennes devantures de boutiques et d'ateliers : au n°30, découvrez une vieille boucherie en mosaïque.
Un peu plus loin, la rue piétonne des Rosiers, au coeur du vieux quartier juif, alterne entre snacks à falafel, vieilles boutiques ashkénazes et anciennes maisons pittoresques. Si vous ressentez l'envie de vous reposer un peu, rejoignez la Place des Vosges, lieu de vie paisible où Victor Hugo, Théophile Gautier et Simenon ont vécu. Entourée de salons de thé, de boutiques et d'antiquaires, elle fût après les rois, le lieu privilégié des grands bourgeois, financiers et riches marchands. Et pour cause, c'est l'une des plus jolies de Paris. Avant de partir, n'hésitez pas à découvrir l'Hôtel de Sully au style pur renaissance, où furent tournées quelques scènes du film Les liaisons dangereuses. Sa librairie est magnifique, elle aussi.
Ça mérite le détour :
– La belle Hortense, bar littéraire, 31 rue vieille du temple.
– Sacha Finkelsztajn, Pâtisserie, 27 rue des rosiers.
Côté Musées :
– Maison Européenne de la photographie : exposition temporaire, ancienne et contemporaine
– Le musée de la magie et le musée des automates : 3000 objets et documents autour de la magie regroupés par le père de Marcel Proust.
– Le mémorial de la Shoah
– La maison de Victor Hugo, 6 place des Vosges.
Faire du sport :
Shopping :
Nearby transportation
Pont-Marie
Rambuteau
Saint-Paul